I'm not a fan of all the packaging bathroom essentials come in. When I'm getting ready to go out, or washing up at the end of the day, I don't particularly want to be rifling through that annoying slider box thing that q-tips come in, or trying to pull cotton pads out of that really skinny plastic sleeve. Gets so old. I also really don't like using a makeup bag. Those things get so unavoidably grimy and dirty. Plus, I never take makeup with me when I leave the house (I usually forget but it's probably also laziness!), so I really prefer to just leave what I need exactly where I can find it instead of throwing it all together. So I started keeping the glass jars that food comes in (salsa, pickles, etc.), and I use them for EVERYTHING. But I'm just covering my bathroom today :) Here are a few photos:
So much handier! (and nicer to look at!)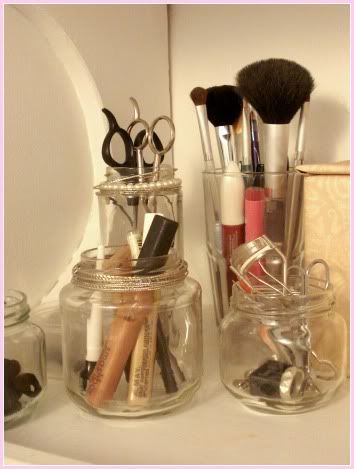 (This is also good for keeping your makeup brushes in tact!)
If you're feeling a little fancy (I was), you can add different but cohesive bracelets to the jars. I'm also a big fan of keeping flowers in the bathroom. Even the top of the toilet tank needs some attention!
(clear jars and mirrored items add more light in tiny spaces)




Last but not least, something every bathroom needs: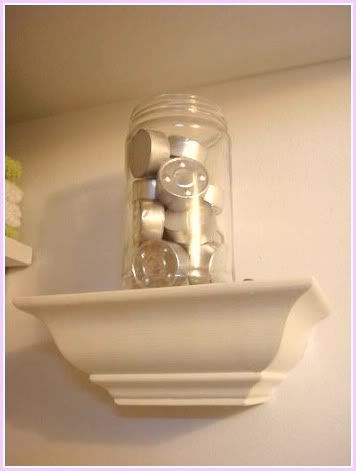 NEVER forget the tealights! ;)
Love, Jamie