Merry Christmas everyone! I won't be able to post tomorrow, so I thought I would give my best today :) I hope everyone has an amazing Christmas. Not only will I be spending Christmas with my family (as confusing as that can be sometimes - I have several 'pieces' of family to see over the next 3 days), but this will be our first Christmas in Kelowna since we've moved back. I've noticed it's been a lot less stressful without having to worry about buses and places to stay. I'm so thankful for these past few months. In this ever increasingly product obsessed world we live in, I'm suprised that what I'm most thankful for is just to be living in the same city as my family at this time of year. We have to remember what's important :)
And now I'm going to share my favorite cookie recipe with all of you!
You will need:
1 c. melted butter
1 c. sugar
3/4 c. brown sugar
1 lrg. egg
1 lrg. egg yolk
2 tsp. vanilla
2 1/2 c. flour
1 tsp. baking soda
1/2 tsp. salt
1 c. white choc. chips
3/4 c. dried cranberries
1. Preheat oven to 350
°. 2. Beat melted butter and sugars. 3. Slowly add in vanilla and eggs until well blended. 4. Combine dry ing. in a seperate bowl, then slowly add to wet ing. 5. Fold in chips and cranberries. Spoon onto a greased baking sheet, and bake for 7-10 minutes.
This is such an easy recipe, and it's a great base recipe. You can use just chocolate chips, nuts, raisins, or crushed chocolate bars - everything works.
I made them as gifts and stocking stuffers this year: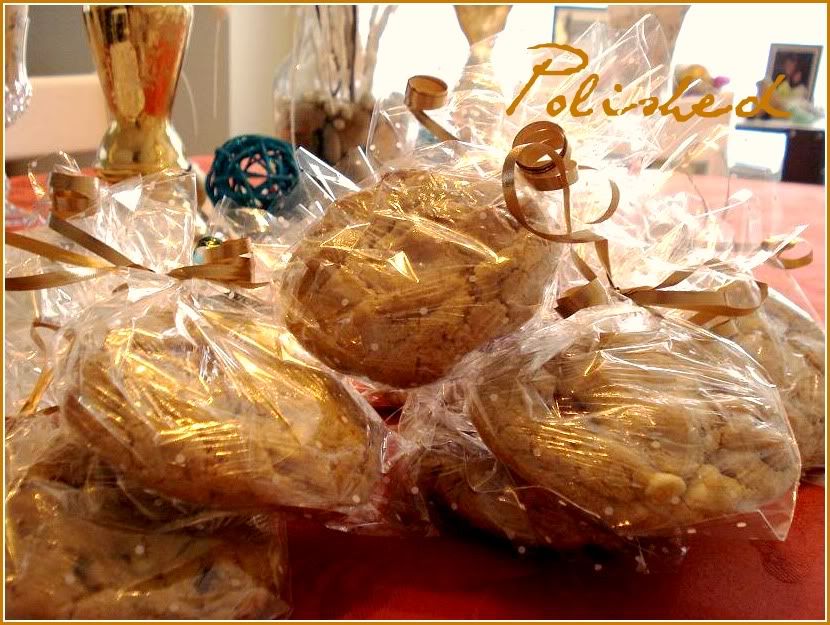 Wrapped and ribboned :)
Have a great Christmas everyone!
Love, Jamie